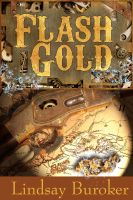 Eighteen-year-old Kali McAlister enters her steam-powered "dogless sled" in a race, intending to win the thousand-dollar prize and escape remote Moose Hollow forever. The problem? Fortune seekers and airship pirates are after her for the secret to flash gold, her late father's alchemical masterpiece.
With a hand-modified rifle and a pocketful of home-made smoke bombs, Kali wouldn't normally hide from a confrontation, but taking on a whole airship single-handedly is a daunting task. Unfortunately, the other racers won't assist her–they're too busy scheming ways to sabotage her unorthodox sled.
When a sword-slinging stranger shows up, wanting to hire on as her protector, she's sure he has ulterior motives, but he's the only one interested in helping her. The question is…why?
Details:
An 18,000-word steampunk novella set in the Klondike Gold Rush era. 
My Thoughts
This was my second attempt at a Steampunk book and I was impressed with this quick witted story.  And interesting mix of machinery and dog sledding in the Yukon.  The interactions between Khai and Cedar who seemly appears at her door from nowhere is both humorous to their lack of trust in each other and witty because they seem to play off each other very well.  I felt the the read was over before I even started it.  I got sucked in and wanted to know so much more about what there two could accomplish together.  Lindsay Buroker caught my attention with this novella and I will be check out more of what she has written.
My Rating
4 stars – I want to know more!  It was over before it was really started which made me kind of sad.
About the Author
I've been publishing web content and blogging for a living since 2004. Before that I worked for other people. It wasn't nearly as fun. I was even an enlisted soldier in the army for a few years, which had it's fun moments but was mostly about getting up way earlier than I like and doing grunt work (they liked it if you actually grunted while doing it…).
As I was saying before I distracted myself, I'm working for myself these days. My main hobby, and the reason for this blog, is writing fantasy.
I've had short stories published here and there, but I never had much interest in
 querying agents (too much like applying for a job with ten thousand applicants). I did want to get my work out there for anyone who might enjoy reading it. Thanks to the e-publishing revolution, I'm now able to make this happen, and, as with my day job, I can do it on my own terms. More fun that way. Really.